Get a Quote & Book Now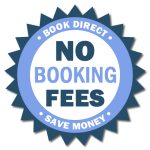 To check availability and book this rental online, choose your check-in and check-out dates by clicking them on the vacation rental calendar below. You can also turn "Rates On" to see rates for the week that you want to book.
After choosing your dates you will be transferred to our secure online booking system to place your reservation in a few easy steps. You will receive detailed pricing and be able to revise your reservation as needed. And, no BOOKING FEES will be added.
Are you still concerned about booking directly with us, the property management company? Why? We'd like to know. Fill out our Contact Form and let us know your concerns. Who knows! We might just give you a discount for letting us know….
If you would prefer to book this vacation rental on Homeaway or VRBO, then please visit our listing and book your reservation.
COVID Cancellation Policy
Travelers who cancel at least 60 days before check-in will get back 100% of the amount they've paid. If they cancel between 30 and 60 days before check-in, they'll get back 50%. Less than 30 days before check-in, they won't get a refund.